Gowellsecurity a leading provider of security solutions, announces the launch of its innovative 4G LTE Solar Powered Security Camera Systems. This cutting-edge technology is set to revolutionize the field of surveillance, offering enhanced convenience, reliability, and cost-effectiveness.

With 4G LTE connectivity, these security camera systems ensure seamless remote monitoring capabilities in various scenarios. No longer limited by the constraints of wired connections, these cameras can be installed in remote areas, construction sites, agricultural fields, and other challenging environments where traditional power and network infrastructure are inaccessible.

The solar-powered design of these cameras eliminates the need for external power sources, enabling flexible placement and reducing installation costs. The integrated high-efficiency solar panels harness sunlight to provide continuous power supply, backed by advanced battery technology that ensures reliable operation even on cloudy and rainy days. This eco-friendly solution not only reduces carbon footprint but also significantly cuts down on electricity expenses.

The convenience offered by these systems is further enhanced by the use of 4G LTE connectivity. Users can remotely access live video feeds and recordings through dedicated mobile apps on their smartphones or tablets, regardless of their location. Real-time alerts and notifications can be received, enabling swift response to potential security threats.

The economic benefits of adopting these 4G LTE Solar Powered Security Camera Systems are substantial. By eliminating the need for costly infrastructure installations, they provide a cost-effective alternative to traditional surveillance setups. Additionally, the scalability and modularity of these systems allow for easy expansion and customization according to specific monitoring needs.
Solar powered security camera systems enable 24/7 remotely live monitoring for sites even without grid power and wired Internet.
Fully integrated solar powered camera kit featuring commercial quality and super easy to use.

Widely applicable in mining, oil and gas, construction engineering, road transportation, agriculture, plantation, animal husbandry, outdoor projects, and safe cities.
Full work with Hikvision,Dahua,Uniview PTZ Cameras.

| | |
| --- | --- |
| Camera Specifications | Solar Power Supply Spcifications |
| ◎ HD 4Mp IP camera with 4G LTE ,Works with AT&T, T-Mobile,AU,EU, unlocked | ◎ Integrated design, patented product |
| ◎Digital 23x zoom lens for clear close-ups and 360-degree rotating surveillance | ◎ Stainless steel bracket with hurricane resistance, outdoor rainproof, corrosion-proof, and explosion-proof |
| ◎ Excellent low-light performance with intelligent infrared night vision up to 150 meters | ◎ Semi-flexible solar panels with high power generation efficiency and lightweight |
| ◎ Supporting Remove morning view by App | ◎Lithium-ion battery pack with excellent resistance to high and low temperatures and long lifespan |
| ◎ Supports 12 languages, Firefox, Safari, and Google Chrome browsers | ◎Each subsystem works independently, making maintenance simple |
| ◎ Features remote monitoring, two-way audio, alarm integration, and SD card recording | ◎User-friendly surveillance software,easy installation and operation |
| ◎160W solar panel and 80AH lithium battery for 5-day power backup during rainy days | ◎ Convenient data download and support for multi-terminal monitoring |
| ◎ Outdoor waterproof design with IP67 protection rating | ◎ Simple installation, no wiring required, plug and play |
With Voice system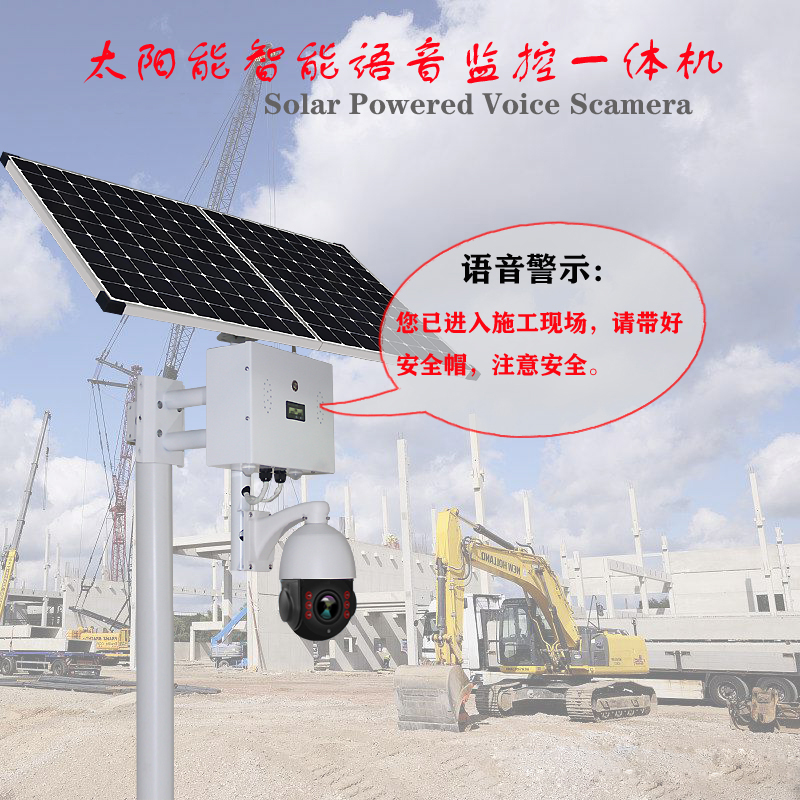 As Temporary cctv system for construction sites: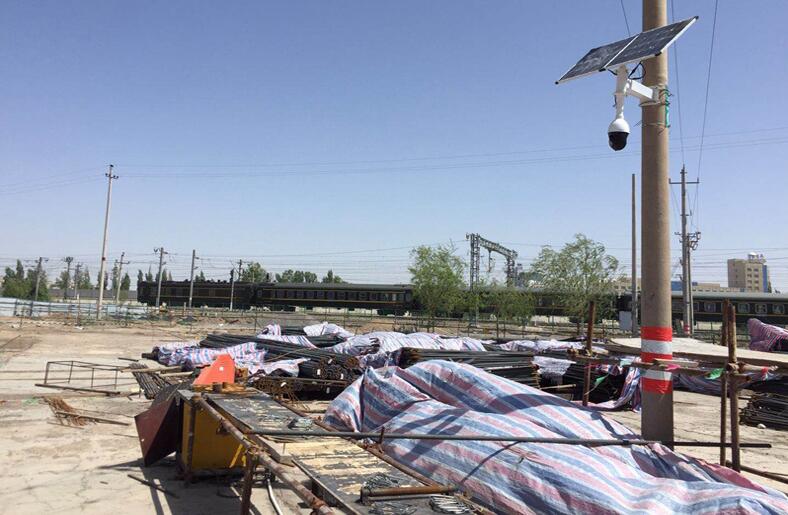 Solar Powered CCTV PTZ System for agriculture: